Shortly after the groundbreaking report
A Nation At Risk
(1983), the district where I worked adopted an evaluation instrument designed to limit positive feedback but which included a section called "documentaion for removal." This paradigm shift from seeing the good in teachers to looking for the bad has haunted me throughout my career. Possibly, this motivated me to constantly improve my practice through education and rigorous professional development. Only in the past two years have I feared growing older in my profession. Only recently have I sensed subtle descrimination based on age.
When teachers chant the Bill Gates mantra that experience and education don't matter, they become pawns in the effort to "deskill" teaching. They help construct the business model of high stakes testing in education promoted by Gates, et al. In a recent
Answer Sheet
article, Diane Ravitch explains the "us against them" strategy today's education reformers have adopted:
The reformers pit parents against parents, charter parents vs. regular public school parents, competing for dollars and space; and they pit teacher against teacher, bringing in new teachers to take jobs from experienced teachers while the "reformers" demean the value of experience (emphasis added).
Their strategy is conflict, and it is hard to see how children will benefit when the grown-ups are fighting for control of the schools and the profession.
(
"Ravitch Takes Stock of Education in 2010
)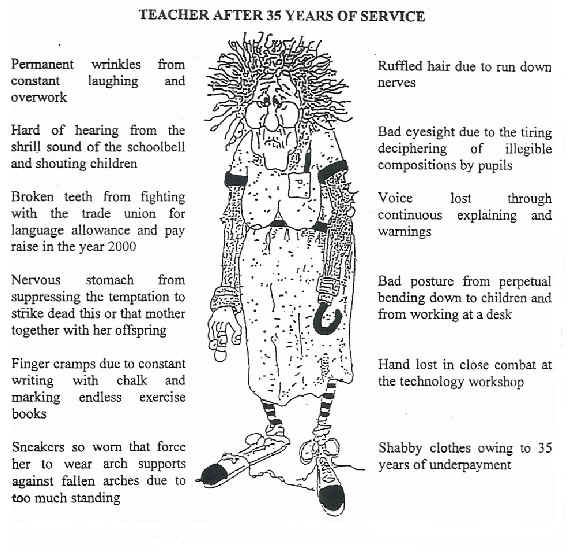 Recent litigation helps support Ravitch's claim that reformers devalue experience, prefering younger teachers, as
this article
evidences. Programs such as Teach for America, as well as the recent redefinging of "highly qualified" are designed to create a cadre of teachers who enter the profession for a few years after minimal training and who burn out quickly and leave. This economic policy of "planned obsolescence" pervades the retail market, and it's what today's reformers want in teaching.
Therefore, to teachers of all ages, I say thank you for the work you do.To my young colleagues, thank you for energizing our profession with new ideas and idealism that recharges my enthusiasm for teaching; thank you for keeping me young at heart. To my colleagues with longevity: Thank you for sharing your experience and hard-earned expertise with me, for mentoring me, and for creating a culture of excellence to inspire me.
As a colleague who use to teach across the hall from me says, "If we don't stand together, we'll fall together."